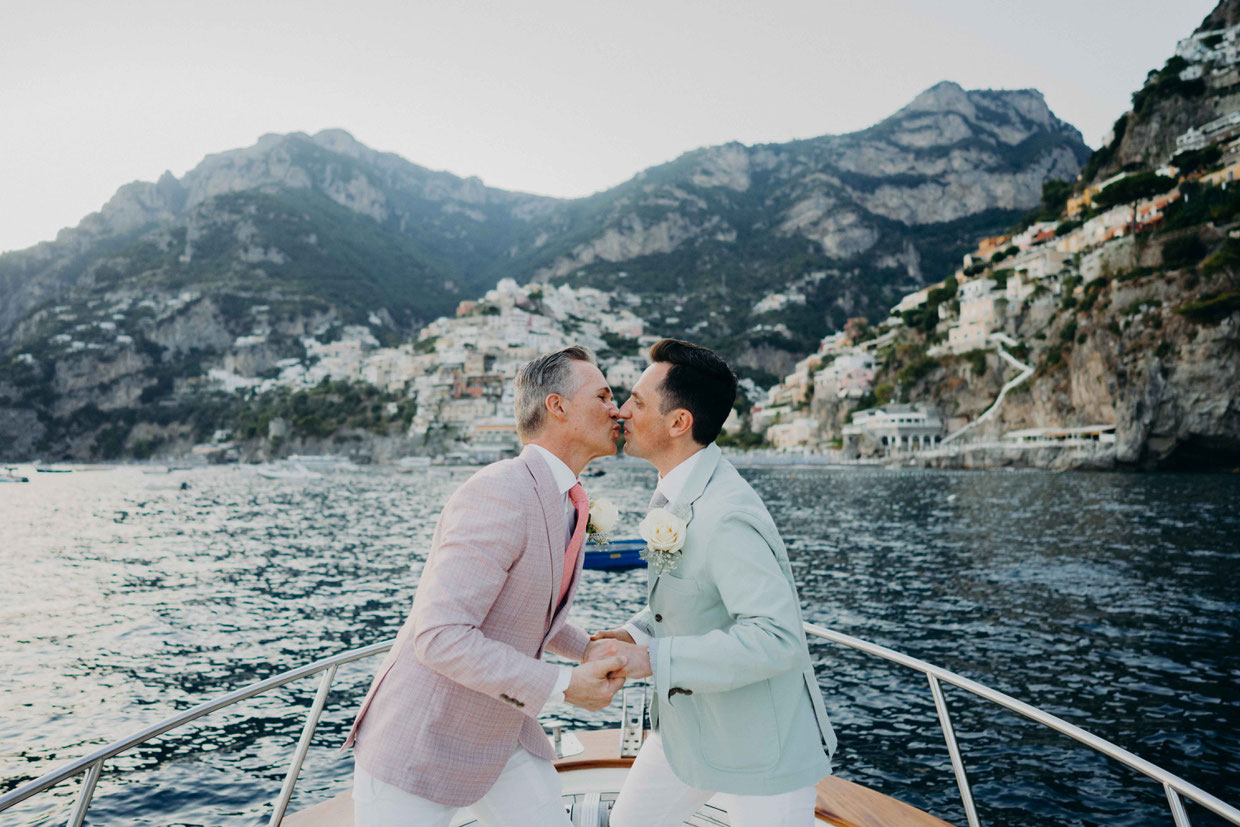 It's a late August day: the preparations for the wedding of Kelly and Adam, a fantastic gay couple that decided to get married in the suggestive Positano, are now in full swing.
Not only the location is perfect, but also the weather: a splendid and sunny day, which in typical Italian style fades very slowly at sunset, with sparkling plays of shimmering light on the water's surface that embellish every shot.
Flocks of loving couples invade Amalfi coast every year, for a romantic getaway or their honeymoon. It happens more rarely to get married in one of the fantastic places that this region of southern Italy offers, with one of the most beautiful and romantic scenery in the world. Kelly and Adam decided to marry here in Positano, symbolically, and fulfill their dream of love without family and friends: a bigger, official ceremony will take place when they go back to their home, in Australia. 
They both display a very intimate, passionate and accomplice love, that I could feel from the first moment we met: my assistant Giuseppe and I have in fact arrived at the rendez-vous 30 minutes earlier, to check together the last details.
We are not alone with this beautiful couple: in addition to the captain of the vessel, that's going to be our guide and will help us discover the most breathtaking views of Positano and its surroundings, there is also Carmela, an expert wedding planner and celebrant, that with her long experience, mixed with her affable and courteous ways, immediately gain the sympathy of the couple.
And what a couple! Beautiful, magnificent, smiling and impeccable, with their dresses that would not disfigure on a runaway organized by a famous Italian stylist. There are no visible imperfections, and even the combination of colors is very delicate and romantic, as well as the whole atmosphere that expands all around them: there is love in the air, and it is certainly perceived!
The boat awaits us at the small pier located near Positano beach, a beautiful one over 12 meters long, which emanates luxury from all sides: when it comes to getting married, it is true that you shouldn't look or worry too much about expenses, and in this case, the habit makes the monk.
There is no more beautiful view of Positano than from the sea: it is a calm day, almost windless, the sea is only slightly crisped up by the small boats within our vicinity. We opted for a small trip to Praiano, so as to capture Positano in the background on most of our shots.
The ravines, caves and small beaches are all functional details to our photos, but time passes quickly: it's time to celebrate. Carmela takes the reins (or rather, the helm) of the ceremony, and both lovers do not stop even for a second smiling and looking at each other, now languid, now full of passion.
It is no longer possible to delay the exchange of faiths: as they do a kiss crowns their dream of a wedding on the Amalfi coast, with some of the shots that looks like postcard photos. Time for toasts, effusions and congratulations: because nowadays sincere love shouldn't be taken for granted, at all, and must be celebrated in the right way, with respect. I feel lucky to work every day with people like Kelly and Adam, genuine people who manage to transport you inside their love story; in doing so the photos are positively affected as well, pushing me to hunt and strive for the best composition that will do justice to this fabulous pair of lovers.
On our return, after literally taking hundreds of photographs, the sun has long since disappeared below the horizon. Although the time was already up, I decided to spend more time with the couple, and take more artistic photos, with another style, very different if compared to the spontaneity trope that accompanied our boat trip. I hope the result does justice to the beauty of the two spouses, and their love.
Getting married in Positano is a magical moment, and hiring the right photographer is an act of faith: I am happy to have witnessed the sincere love of Kelly and Adam, to whom I want to personally congratulate and thank.