Don't let their wonderful smiles deceive you: John and Kate are not normal parents. Their large family is proof of this: growing 3 sons and a daughter fis not a simple challenge. When their eldest son asked for his fiancée's hand, there were no doubts: it was necessary to celebrate in the most beautiful way possible, and what's more beautiful than a holiday in Italy in the fantastic Sorrento coast?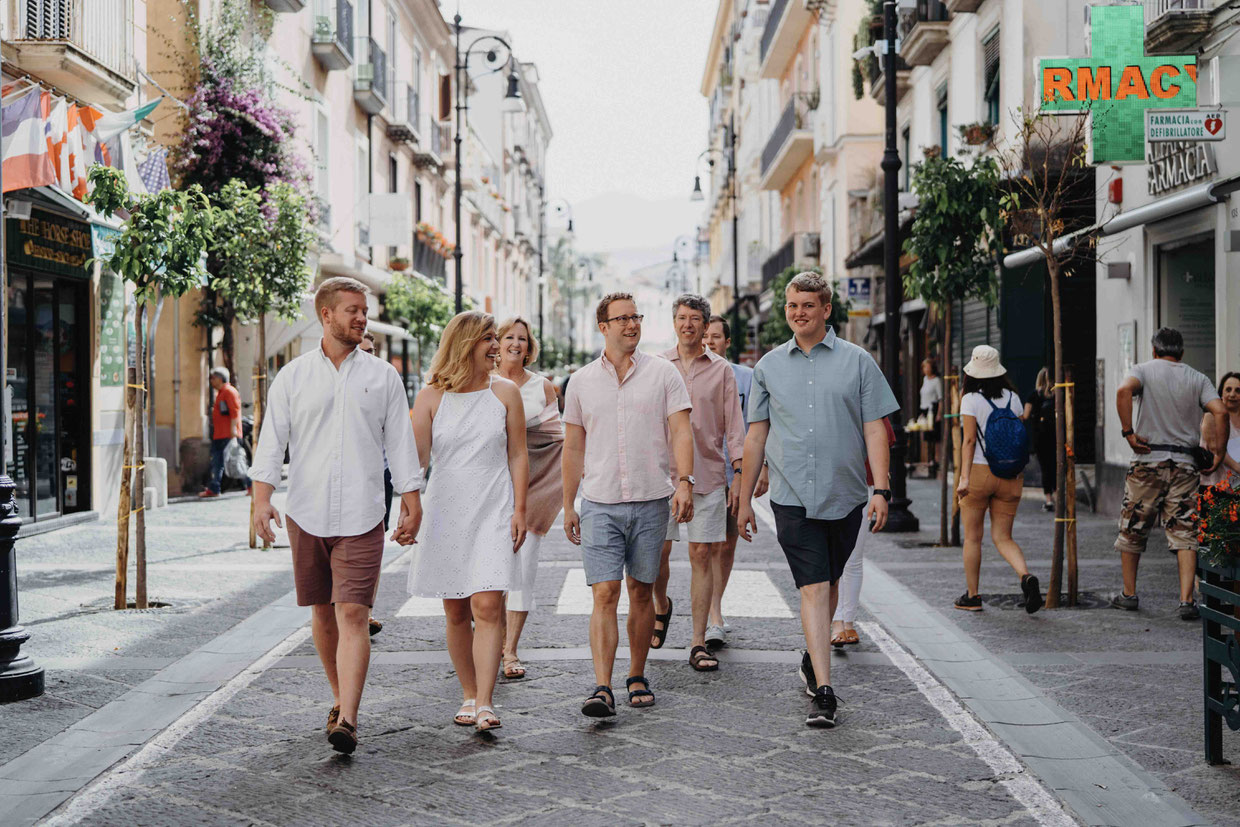 Every photo shoot in Sorrento coast is a little story to tell, to discover, and as a curious photographer I couldn't help but get carried away by the positive energy of this fantastic family scattered between America and Europe. The two oldest sons live in Europe, in Amsterdam and London respectively, to pursue their dreams and ambitions, and Kate and John could not be happier.
They all lived in Ireland for a few years, enjoying what is often called Emerald Island or Green Country for a reason: the vast expanses of meadows and pastures are a natural spectacle that warms our hearts.
Nevertheless, the landscapes of Ireland can do nothing against the beauty of Sorrento coast and its sometimes underestimated pearl, Sorrento. Here John and Kate got fascinated by the beauty of this city that winds its way between the Lattari Mountains and the sea, rich in natural beauty, breathtaking scenery and delights for the palate.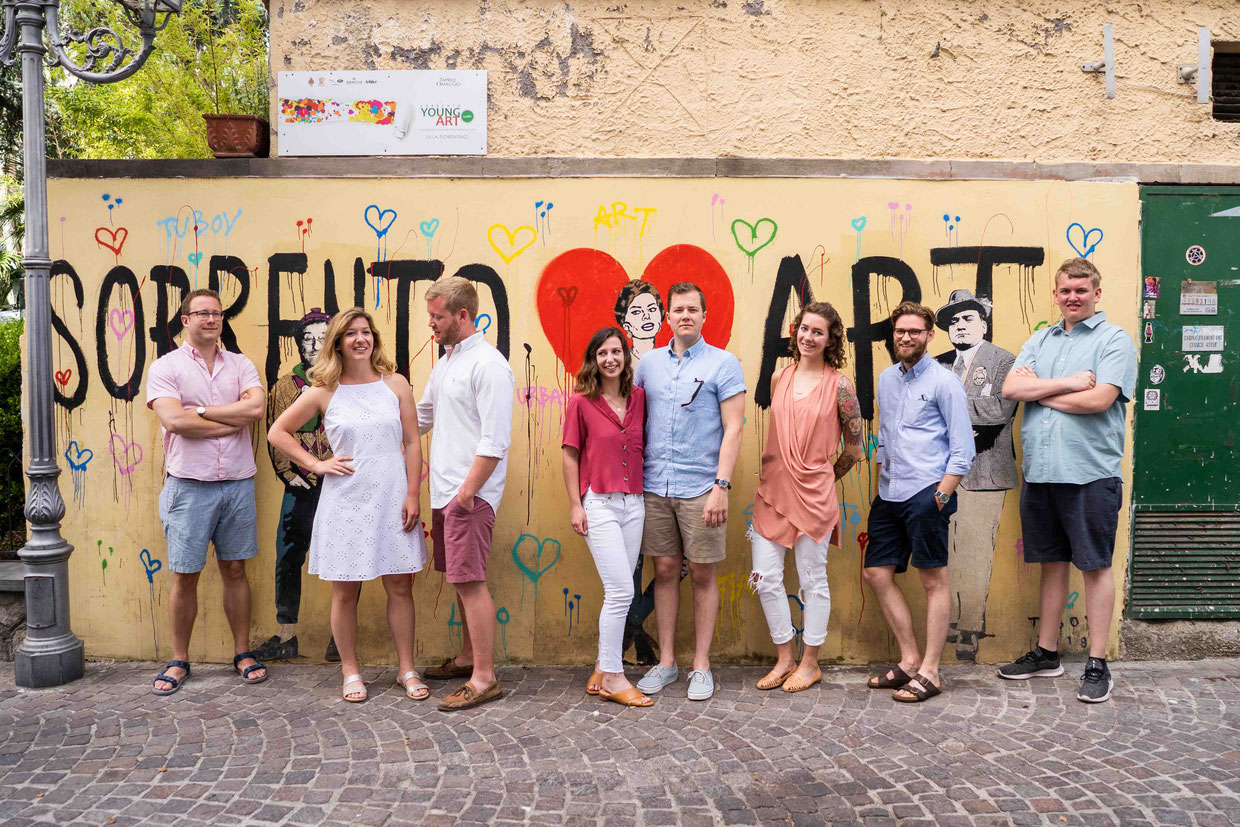 Our shooting in the city of Sorrento starts from the beating heart of the city, Piazza Tasso, dedicated to the famous Renaissance poet, with a statue in his honor that stands in a central position. It doesn't matter if every day you wander around the Sorrento coast, or if you stop in Sorrento to enjoy its privileged position and recharge your batteries by just relax on one of the many beaches and SPA: during your stay you will find yourself several times among the cafés and pastel color buildings of this big square.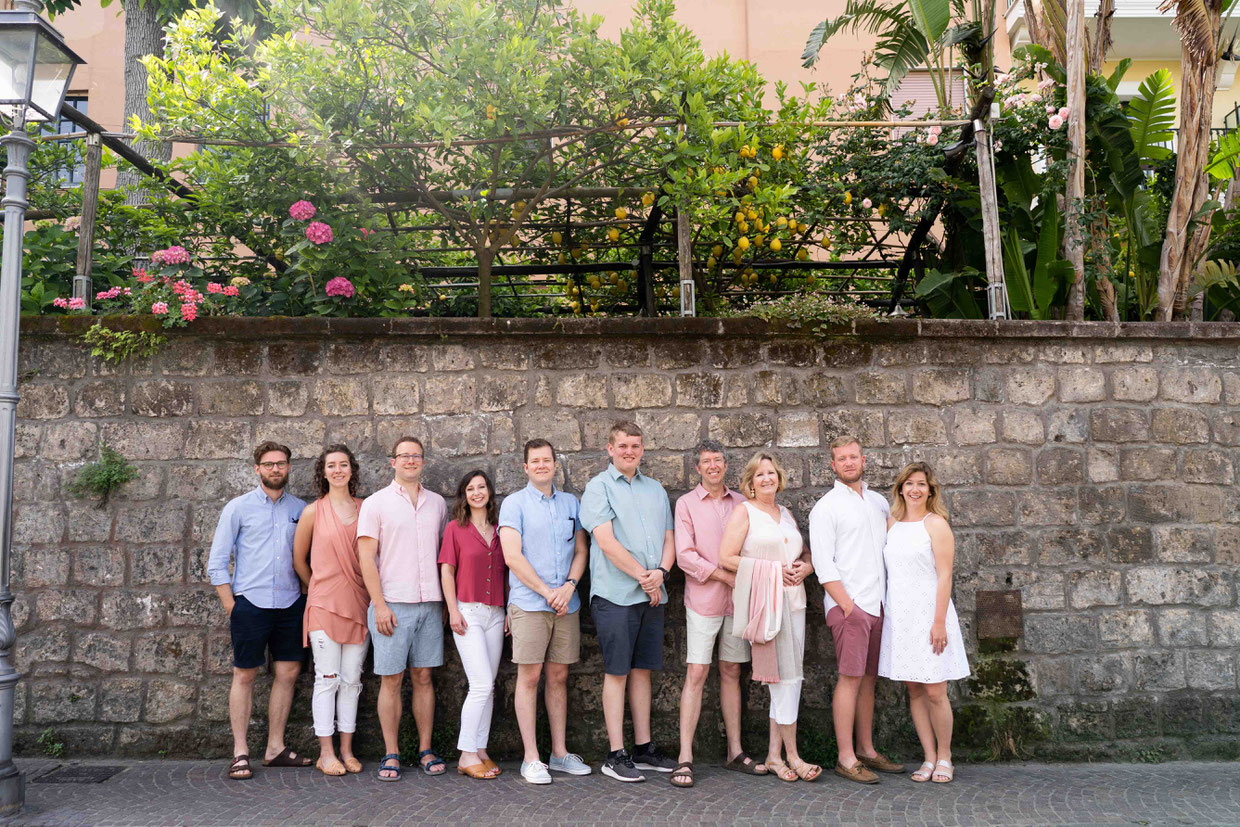 From Piazza Tasso you can enter many small streets where the real Made in Italy dominates: clothes, souvenirs, typical local products enchant the eyes, the smell, the touch. Even if you don't buy anything try to immerse yourself with other locals and tourists in this melting pot of cultures, perhaps while sipping a shot of Limoncello, a typical liqueur from the Sorrento-based coast: it is truly a refreshing panacea on those hot summer days.
Coming out of the alleys we found ourselves with the whole family in the Villa Comunale, freely accessible to the public and a privileged access point for the public beach. Just before Villa Comunale stands the Church of San Francesco, with its ancient cloister: thousands of couples have chosen this place to exchange promises of eternal love, and the reason is clear from the pictures while the family just enjoy the temporary art gallery inside its corridors.
Moving along the road towards Piazza della Vittoria there is also time for some unusual photos for a photoshoot in Sorrento: do you remember when I told you that Kate and John's family is not a conventional family? Well, looks like there is an aura of mystery about this shot of the future bridegroom in the act of collecting ... something? We will never know which family tradition hides behind this shot, but the crystalline laughter of the whole family during the shots and trials to strike the perfect shot say a lot about the complicity that exists between all the members of the family and their respective fiancées.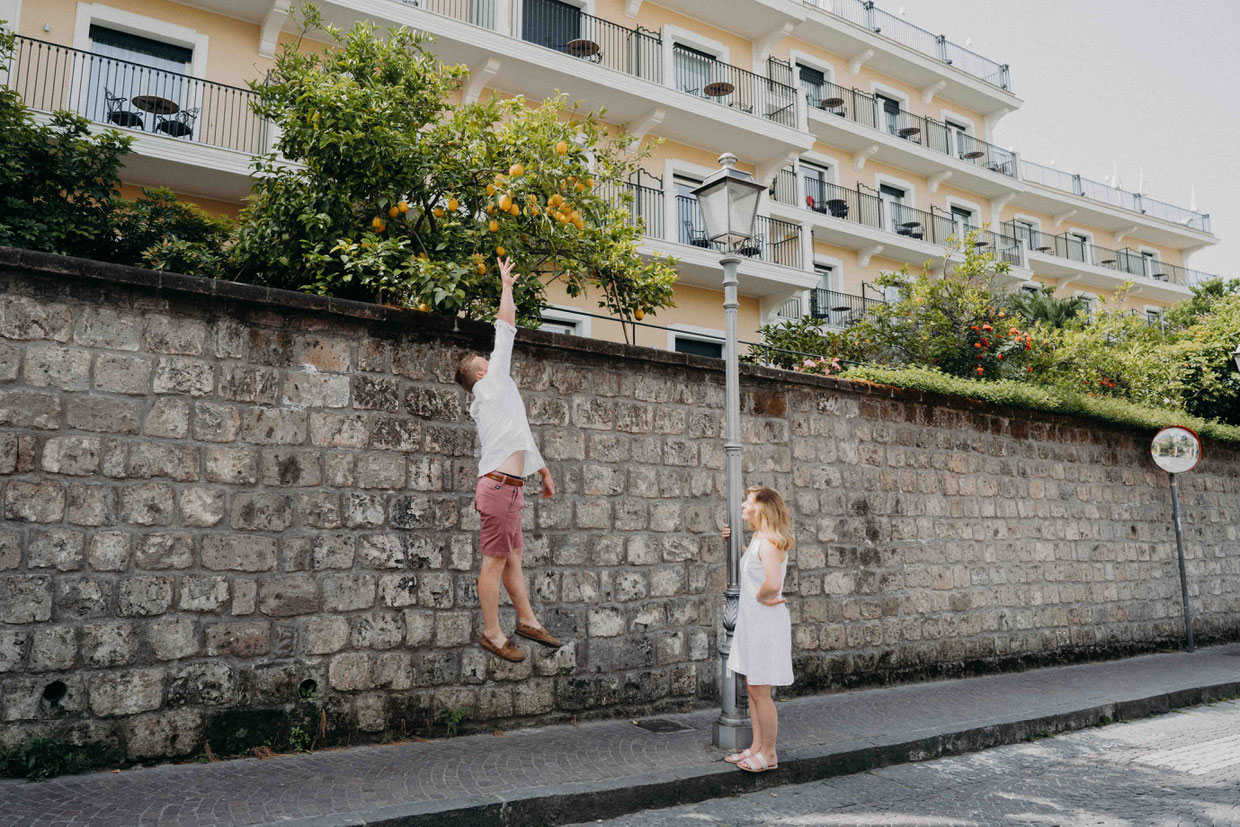 Our shooting ends where it all began, in the heart of Sorrento, in Piazza Tasso: these were two wonderful hours spent in company of an incredibly sweet and genuine family. John and Kate chose Sorrento and my services to capture some shots that could be worthy of the test of time. In years they will look at these shots again, perhaps with more wrinkles, and I hope they will happily remember those magical days spent in Sorrento.